Ahoy there!
Today is the 8th day of The 12 Days of the Spiral! And for today, Kingsisle added a new Pirate101 companion! It's called the Yule Trogg, and is available in the Crown Shop for 3,995 crowns! He's come all the way from Santa Claus to help you with your battles, since you made it on the Nice list!
But be careful! He likes to wander off sometimes! I recommend you get him quickly before he leaves for good! This companion is available for a limited time only. Here's the stats he has at level 50: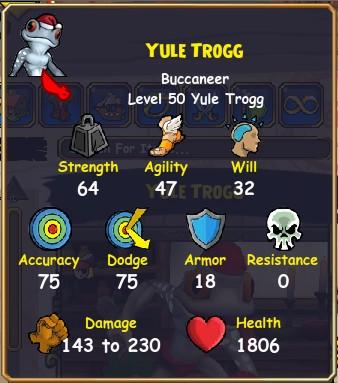 He also comes with the talent 'Vengeance' right when you buy it! As you can see, he's a pretty good companion to have! If you're in need of crowns, check out the 'Contests' tab above, lots of prizes!
What do YOU think about this companion? Would you buy it? Or did you already? Leave a comment below, and we'd love to hear!
Cya in the Stormgates!
~Alexander da Coolest