Ahoy there!
This contest is now over.
1st Place: Clever Steven Freeman
2nd Place: Andrew
3rd Place: Fearless Sarah
Correct answers:
1. Sophia Lifecaster @SophLifecaster
2. AmberFireSword, @AmberFiresword
3. Olivia, @Kestrel101
4. Briana, @BriDragonpants
5. M
iguel Dragontalon, @chamender3
6. ElizabethGT @SquijaxConjurer
7. Nikki_Da_Bomb @Nikkiwiz101
8. Josh Daystalker, @JoshDaystalker
9. Autumn Dawnstrider @A_Dawnstrider
10. Paige Moonshade, @PaigeMoonshade
11. Michael Rainvault, @MikeRainvault
12. Tyler Dream, @TDream101
13. Jeremy Thundereyes @jeremywizz8647
14. Alric Ravensinger @AlricRavensinger
15. Kelsey Fireheart, @KelseyFireheart
Thank you all for participating!
So I was lucky enough to be able get 60,000 Crowns while the sale was still going on. So I thought, why not share some of it with the readers?
So here's the contest!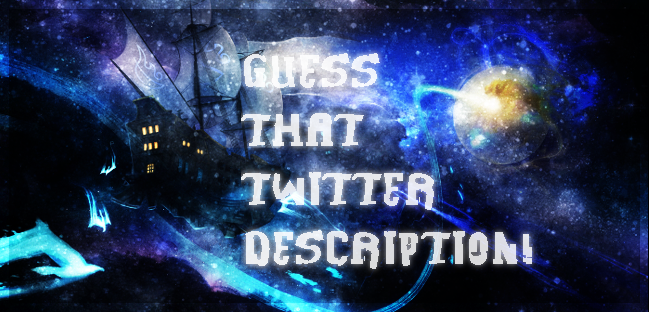 Below are 15 parts of 15 different pirates/wizards' Twitter descriptions. The full description is not provided, and you must figure out which #Twirate/#Twizard each Twitter description belongs to with the little parts you're given. Send us an email with the names of each person you think matches the below descriptions, and your pirate's full name and/or community name to ThatSwashbuckler101@gmail.com with the subject 'Guess That Twitter Description!'! All correct entries will be entered into a raffle. There will be only 3 winners. Contest ends on 9/29/2013 at 11:59 PM EST.

You may only send one entry, so double check your guesses before sending them in!
Prize(s):
1st Place: 5k Crowns

2nd Place: 5 W101 or P101 Hoard Packs of Choice

3rd Place: 2 W101 or P101 Hoard Packs of Choice
Note: If any of the Twitter descriptions are removed or changed by the owner, this post will be updated.
Here we go!
1. "
Admin on Adventures of the Spiral."
2. "Feel free to look at my art #handdrawn!"
4. "Don't let others tell you who to be. You are you, and that's the most beautiful thing."
5. "My main characters are Miguel Dragontalon 90 Death, and Lucas Legendblade 48 Life."
6. "A very random Wizard101 player who is leveling up five wizards."
7. "
| Loves to draw | Fellow Potato | Quite Crazy |"
8. "Gamer, musician, Honors student, Runner,"
9. "1st Age PVP Captain, that can be caught watching Alex StormRider or Aaron BlueBreaker PvP :)"
10. "To be human is natural , to have equality for all is beautiful."
11. "
Brother of @StormRiderWiz"
12. "I'm The Proud Founder/Owner Of The Wizardly Awards/Wizardly Commons"
13. "My name is J but call me Jeremy!"
14. "Arizona born & proud."
15. "We provide help on everything! Happy Dueling/Sailing!"
Good luck!